The holidays can be a stressful time of year when coordinating the decoration of your home, business, or office. Thankfully, Appalachian Evergreens offers Christmas wreath delivery for your enjoyment of fresh cut holiday greenery! View our Christmas brochure today for details on our Fraser Fir wreaths, table top trees, candle wreath centerpieces, fireplace mantle garland, and mountain cured country ham gift box. Trust your holiday greenery decorations to the professionals located in evergreen country – Appalachian Evergreens. Order online today.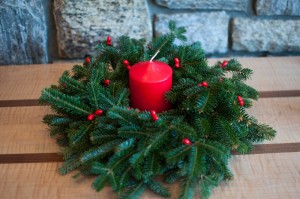 Christmas Wreath Delivery for Your Convenience
Appalachian Evergreens has distributed gorgeous Holiday greenery since 1933. In addition to our Christmas products offered online, we source locally grown and handmade holiday greenery in bulk size.
We offer the following variations of our standard, undecorated 24" Fraser Fir Christmas wreath: Real 24" Fraser Fir Christmas Wreath Fully Decorated and Real 24" Fraser Fir Christmas Wreath with Gold Backed Red Bow.
Our stunning mantle garlands are handmade in Boone, North Carolina, just a short drive from our acres of evergreens. We grow only the finest Fraser Firs to ensure our greenery is the finest around. Our fresh garlands are available in six feet or nine feet and make wonderful decorations for your fireplace mantle or hearth.
If you decide to send your wreathes or garlands as gifts, you can choose a personalized gift card. Include individual 12 oz country ham package in your order to send a great addition to any Holiday meal.
Shipping and Delivery
Since our products are handmade from our lovely fresh cut evergreens, we strive to make the time between cutting and the time between enjoyment as short as possible. We offer the option of four different shipping weeks for delivery during the Holiday season. Order as early as you would like in the year and we'll ship your Christmas wreath greenery during your ship week.
Appalachian Evergreens: Providing Christmas Wreath Delivery for Decades
If you are looking for garland or Christmas wreath delivery, whether in normal or bulk orders, contact Appalachian Evergreens today. Time is running out to order this season!