While there are several quality tree farms throughout the United States that produce quality ever greens, not many of them offer the quality that we can here at Appalachian Evergreens. A member of our teams hands touches every design that goes through our order process. All products must be hand crafted and made to order. In order to manage our fir tree firms we're located in the picturesque High County. Fortunately, you can order a Christmas wreath online today!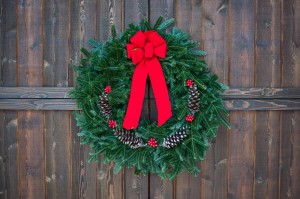 Our Christmas Wreath Online
Our wreaths are all made with real evergreen fir trees, and the smell alone will prove their worth to your guests. You can browse our selection here to find out which wreath will best suit your needs, and order it there. The quality in every one of our wreaths is equal and unparalleled, especially when comparing to store bought Christmas decorations. Sure, your plastic wreath will never go out of season, but it surely won't invoke the real feeling of warm Christmas that we all want every holiday season.
Whether it's a gift for many or a simple single decoration for your door our Christmas wreath online can do the job. We offer wholesale options to make sure that everyone can get the Christmas wreath online or decoration that they need this season. Your family deserves the best, and so do you. So get the best, and enjoy yourself this holiday season, you've earned it.
Get in Touch With Us
Call or contact us online to get in touch with our family owned business and order your Christmas wreath online today. You can find us at 828.264.1609 or contact us online through our contact form. Check out our catalog for single products or wholesale as well. Our Christmas wreath online gifts are perfect for family, friends, employees and more!