For the past 84 years, Appalachian Evergreens has provided hand maid, fresh cut evergreens to the North Carolina High Country to across the country. The region that we grow our fine Fraser Fir Christmas trees in boast the ideal climate for creating perfect Christmas trees and Fraser Fir garlands, wreaths, and centerpieces. If you are interested in having fresh Christmas wreaths delivered, Appalachian Evergreens is the prime choice.
Shop online for the perfect garland, wreaths, and centerpieces, or view our brochure. Our fine Fraser Fir products are sure to help make your holiday season spectacular.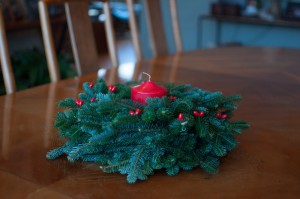 Fresh Wreaths & Garlands
Appalachian Evergreens' real Fraser Fir Christmas wreaths and fireplace mantle garlands and other greenery are handmade with fresh cut evergreens from our local High Country farms. All of our products make excellent Holiday gifts, both for those expecting it and those you choose to surprise!
Our wreaths come in the following options: Real 24" Fraser Fir Christmas Wreath Fully Decorated, Real 24" Fraser Fir Christmas Wreath with Gold Backed Red Bow, and Undecorated Real 24" Fraser Fir Christmas Wreath. Our garlands come in 6 feet and 9 feet. Fresh garlands and fresh Christmas wreaths delivered to your home and office are sure to encourage high spirits.
Shipping & Delivery
Our handmade products are handmade from fresh cut evergreens. The Blue Ridge Mountains produce Fraser Firs with lovely scents, and our wreaths and garlands are perfect for spreading cheerful Christmas aromas throughout your home or office. The fact that our products are freshly made means that we offer a selection of four delivery weeks each Holiday season so that your fresh Christmas wreaths delivered smell fresh off the tree.
Searching for Quality Fresh Christmas Wreaths Delivered to Your Home or Office?
Choose Appalachian Evergreens! We pride ourselves in that we very, very rarely have a complaint of a poorly made product, so you can be sure you will receive an excellent product. We offer replacements and/or refunds for damaged goods.
Contact us today for the highest quality fresh Christmas wreaths delivered to your home or office.