The holiday season is fast among us, and now is the time to grab one of our fresh Christmas Wreaths for sale! We're preparing our Christmas tree farm for harvesting evergreens for your fresh Christmas wreaths. The care that goes into each one of our wreaths I guaranteed to make them something really special for you and your friends and family. The best way to celebrate is with care and affection, so extend that same attention throughout every aspect of your Christmas this year, even decorations!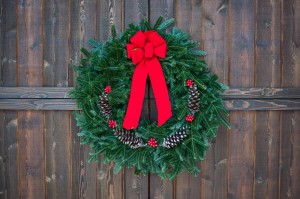 Ready Your Home With One of Our Fresh Christmas Wreaths for Sale
Fill your home the spirit of the holidays with one of our fresh Christmas wreaths for sale. We'll find a holiday centerpiece hand made and hand designed to suit your home. Whether it's a wreath to hang on your door or a wreath to light up your table we've got the expertise and the evergreen to go with it.
The freshness of every piece that we create adds an extensive layer of quality and scent that depicts the Christmas spirit that those store bought wreaths simply can not. Our wreaths are designed with hand picked fir from our farms. If you haven't seen the trees of the high country, they grow a different kind of beautiful here. The mountain air and snow seems to bring out the green in the evergreen. The ever in ever green seems to be the length of our dedication to the business.
Appalachian Evergreen
Appalachian Evergreens has been around since 1933. These centerpieces make an excellent gift for friends, family, teachers and coworkers. You can choose to include a gift card or personalized gift card to let that special person know who it's from. To start your order of one of our fresh Christmas Wreaths for sale call or contact us online. You can use the number 828.264.1609 or contact us online through our contact form.