When you think of Christmas morning, what smells do you remember? Many include the smell of a Christmas tree – a clean, earthy, uplifting aroma. When they buy their Christmas tree, either singular or plural, many families take the time to purchase fresh Christmas wreaths for their home as well. If you are in the market for quality, High Country grown fresh Christmas wreaths and trees, there's only one name worth remembering: Appalachian Evergreens – providing Christmas greenery for the High Country, surrounding regions, and anyone around the U.S. looking for quality wreaths. View our brochure today to order the perfect Christmas greenery.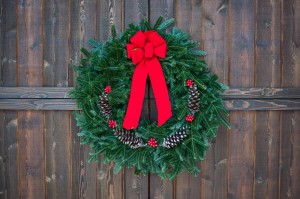 Fresh Christmas Wreaths for Your Home or Business
Appalachian Evergreens has offered quality Christmas Greenery since 1933. In addition to our online retail mail to order Christmas products, we offer locally produced greenery to our wholesale customers. Learn more about wholesale ordering today.
You may order the following fresh Christmas wreaths online: a Christmas wreath centerpiece with ivory candle, a Christmas wreath centerpiece with red candle, a real 24" Fraser fir Christmas wreath fully decorated, a real 24" Fraser fir Christmas wreath with gold bracketed red bow, and an undecorated real 24" Fraser fir Christmas wreath. We also offer an antique wreath door hanger. Order your fresh Christmas trees online to receive before Christmas Eve!
About Appalachian Evergreens
Appalachian Evergreens was founded in 1933 by Charles Cole "Charlie" Wilcox in the heart of the Blue Ridge Mountains of Western North Carolina. All of our products are handmade with fresh cut evergreens from our local farms.
Appalachian Evergreens products are mail ordered and shipped right to your door. Our fresh Christmas wreaths make excellent gifts for your friends, family, teachers, coworkers, and business associates. Choose a pleasant Holiday gift for those anticipating one or surprise them with an exceptional North Carolina High Country evergreen wreath!
We also offer four different shipping weeks for your order each Holiday season. Because our products our "made to order" to be fresh, we want to give you the option of receiving it as close the date of enjoyment of your holiday décor.
Contact Appalachian Evergreens for Fresh Christmas Wreaths
To contact us by email, please use our contact form or email info@projects.appnet.com
Please note that we only ship within the continental United States. Learn more about our shipping and delivery. Thank you for considering Appalachian Evergreens for your fresh Christmas wreaths and Christmas greenery, and we hope that you and yours have a wonderful Christmas and holiday season.